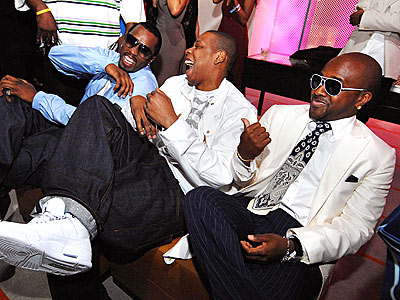 According to the Atlanta Business Chronicle, our boy Jermaine Dupri (sarcasm) has decided to sell out. Officially. Literally. 100%. He's no longer anything but a sell out.
Procter & Gamble, the venerable blue chip company and maker of such clearly hip hop products like Crest, Charmin Ultra toilet paper, Tide laundry detergent, and owner of Gillette shaving stuff has created a joint venture with Island Def Jam records to promote their Axe rip off, TAG Body Spray.
Sadly, yes it's true.  Procter & Gamble bought JD's soul and is using it to promote deodorant.
The new venture will be called TAG Records, and JD will be President of this new operation. The Atlanta Business Chronicle have this to say:
[This] is an effort by the brand to connect with the urban market by providing opportunities for aspiring hip-hop talent. Those artists will merge their music with brand marketing for TAG, and will be promoted through a multimillion-dollar campaign, including television, print, radio, computer and event marketing.
That's right. They'll sign young artists to contracts, slap advertising on everything and promote them all over. In some ways, it doesn't sound that bad. If you're a young struggling "urban" artist, it may make sense to hook up with a big name like Dupri and have a pile of money shoved at you to promote your music.
Dupri himself has this to say
"Today, we make history in the music industry with TAG Records," Dupri said in a press release. "This label is going to provide new artists with a chance of a lifetime. New artists will receive 10 times the typical marketing support – a first in the industry. I'm hand-selecting and molding these artists to make history in hip hop."
I bolded and highlighted that sentence just so you can see it. 10 times the marketing support. That's a whole lot of money. Especially in an age where marketing seems to be dropping (allegedly due to the drop in CD sales), having a lot more money out there can make someone a big star real fast.
Still, any self-respecting artist probably knows the difference between marketing themselves and becoming a walking billboard.
This can have a series of effects on hip hop and music in general. If it works, we'll probably see a lot more big consumer product companies enter the arena and prop up these failing record labels. Fresh money may mean more advertising overall, but it's doubtful that it will result in significantly more traditional sales.
I'm really really hoping this fails, because I don't want to see more and more product advertising creeping into things.
But hey, if it helps a few great unknown artists make it to the top, then good for them!