If you are a really dedicated hip hop head, you would have heard these guys somewhere.   I'm not saying you would know them by name, or even know they were behind the track, but the Lab Techs have produced some of the best hip hop around.
The Ann Arbor-based production team has worked with piles of tiny artists and their biggest name to date is the Athletic Mic League.  They've put out a couple of beat mixtapes  titled "Kill Billboard" volumes 1 and 2.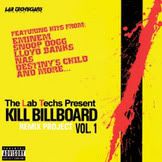 Consisting of CliffNotes, Haircut, Forekast, V-Tech, they have a pretty killer style.  I'm not going to say it's the most original thing on the block, but it's definitely a pretty strong effort.
Check out "Moving Along" [audio:http://cache10-music02.myspacecdn.com/76/std_22ca942931d3e7be6fdf0e280074b708.mp3]
In this track you can hear tons of piano and a fairly simple drum beat.  Not overly complex, which is good because it'd be too bad to overwhelm the rhymes.