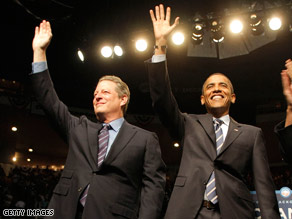 Al Gore has come out in support of the Democratic nominee Barack Obama.
After Bill Clinton's repeated meltdowns during the primary season, Gore is probably now the most respected Democrat in the party.  Many still see him as having won the 2000 election, and now that he won a Nobel Prize he's doing pretty well for himself.
This is only major news because Gore stayed neutral on purpose during the whole Democratic primary.
"The former vice president turned Nobel Prize winner playfully said he recalled one Republican nominee wondering out loud whether his Democratic rival for president was "naive and inexperienced."
"And yet another said the United States cannot afford to risk the future of the free world with inexperience and immaturity in the White House," said Gore. "Who were they talking about? Every single one of those quotes came from the campaign of 1960, when the the Republicans attacked John Fitzgerald Kennedy for allegedly lacking the age and experience necessary to be president.""
I think it's funny that the first statement he made was going back to the whole JFK comparisons that have been all over this campaign.
What's amusing is that the Republican's big comeback is that Sen. Lieberman (the other half of Gore's 2000 ticket) has endorsed McCain a while ago, and Gore's only now coming out in support of Obama.
[Source: CNN]